THIS FLORIDA SHARK FISHING REPORT WAS WRITTEN BY MATT ZAPALA, AKA, MATZY FROM THIS LAST SUMMER. THIS WAS THE LAST TRIP OF THE YEAR. THE GUYS GOT THEIR THIRD TIGER OF THE YEAR, ALONG WITH ANOTHER STOUT HAMMER AND A MESS OF BULLS AND SOME LEMON SHARK ACTION. NOT BAD FOR A CREW THAT DRIVED 19 HOURS TO MAKE THE TRIP. ONCE AGAIN THEY PUT THE PETAL TO THE METAL. MATZY IS GRADUATING THIS YEAR WITH HIS BUSINESS DEGREE IN FINANCE AND LOOKING TO ATTEND LAW SCHOOL. WE WISH HIM THE VERY BEST OF LUCK IN ALL HIS ENDEAVORS.
HERE IS THE REPORT…
Here is a report from a trip earlier this year which definitely tested Jake and I as anglers.
It started out great with amazing conditions and resulted in us stacking up on bait quickly and letting us soak baits shortly after we arrive.
It was almost surreal when the old 14/0 got hit midday. The fish seemed to be struggling with the bait as I held the rod and the line just bounced up and down. I went to set the hook only to find no one home, kept the rod in hand while the fish picked up again but dropped it. I was thinking it was a BT working on the edges of this rather nice size bait so I stuck the rod in the holder and waited.
Probably less than 30 seconds goes by and this time you could just tell by the sound the reel made that the fish had committed to the bait. I set the hook and was very pleasantly surprised to find that this was definitely not a BT but something much nicer. My drag was locking up for some reason and I found myself in some very awkward positions as this fish took off line in short but powerful bursts. I usually fish this reel at almost max drag all the time but when it LOCKED up when this fish was running and I was strapped in to my harness I was just like, "What the hell?" I know I fish tight drag but this is a bit much since NO LINE was coming out. Anyway, because of the mechanical issues this fish came to the beach really quickly and even in the clear water conditions we couldn't see what it was till the sickle came completely out of the water.
A nice little hammer that was awfully green. We have found the best way to get them to cooperate is to press down on their head and keep them in place. We usually clip hooks on hammers without even wasting time with trying to remove them but in the particular case since the fish was green and the hook was right there, I held the head down and Jake made quick work of it. One measurement of 8'2" with the fish curled a little and I grab the shark and get it into the water and it shoots off like a torpedo.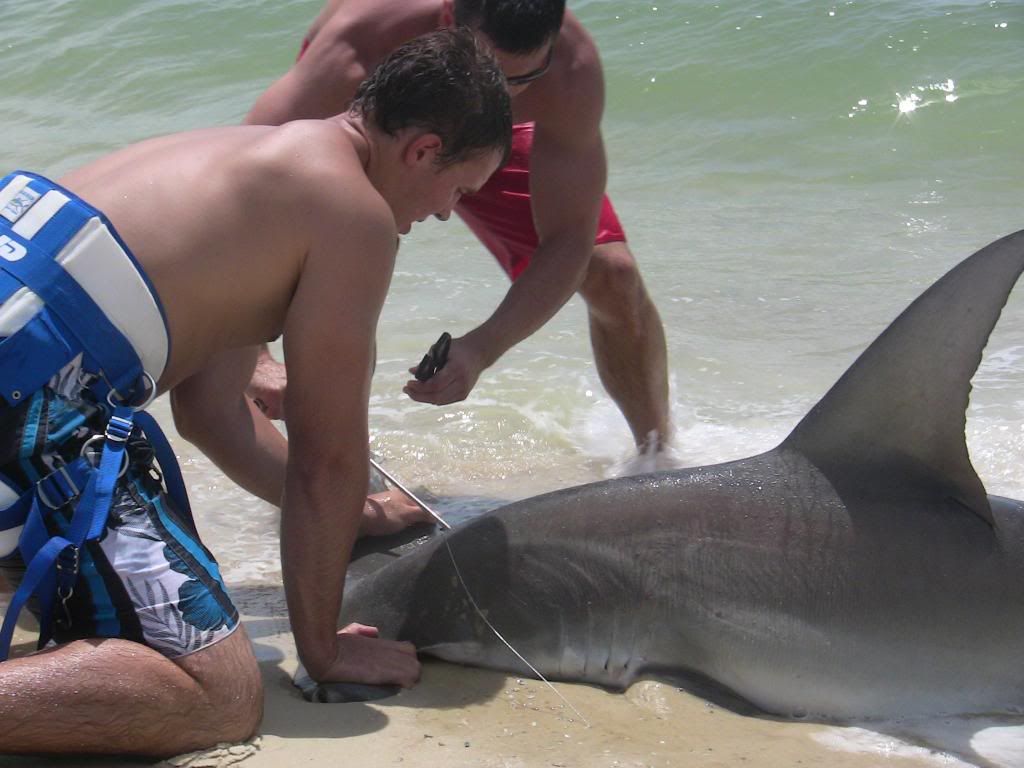 A nice start! Although the reel had me worried…
It really pays to be comfortable working on your tackle in less than perfect circumstances. There was this one time my dad and I took apart and put back together our two 9/0s on the hood of my car in parking lot while the wind was blowing! That's another story for another day! In this case, my work station consisted of a towel and my tools and resources were only those that I carry on all my trips in a little zip lock bag that hold bare essentials for reel work.


After getting the drag stack situated properly on the bridge I rigged back up again and sent her out there with a big bait. Jake also baited up with a monster bait before the sun set. Both of our rods got hit, Jakes got dropped literally as his hand was on the star about to tighten up and I missed my fish after it dropped to start and came back again. We were both extremely disappointed as we knew those were two crucial hits that we couldn't afford to miss.
Next day I added another midday fish, a 6ft class bull. Never got a measurement but it is what it is. I had seen enough of these guys this year. Here is a series of pictures that show me unhooking it by myself.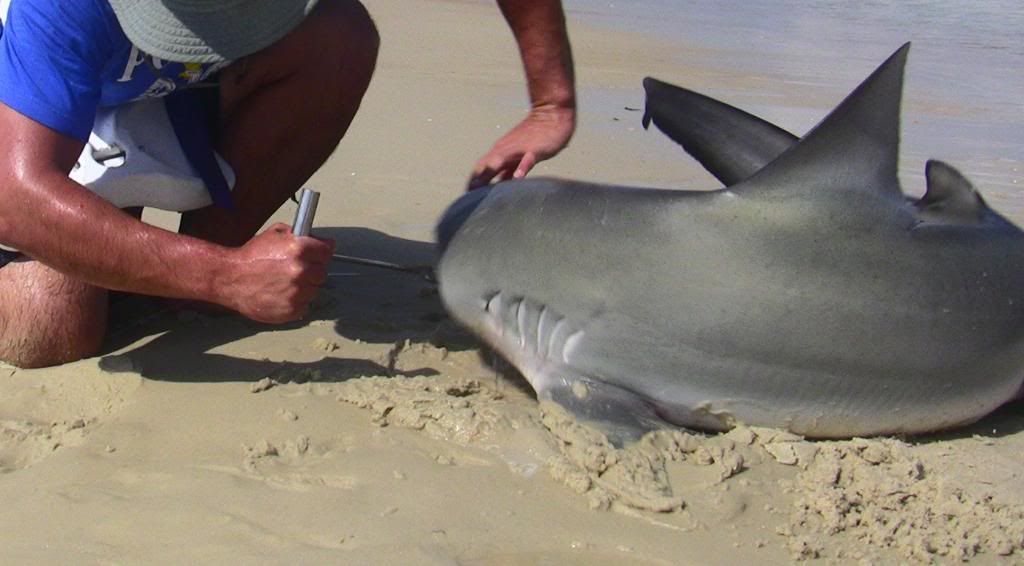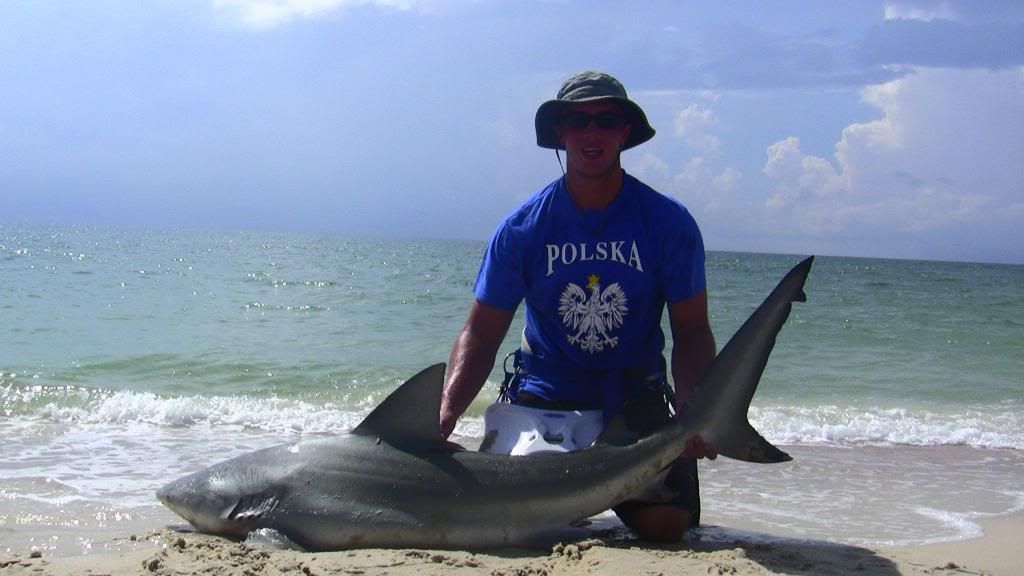 Later in the day Jake adds a really healthy bull that put up a stout fight for its size. I believe it went 6'9".
Can you say sunburn?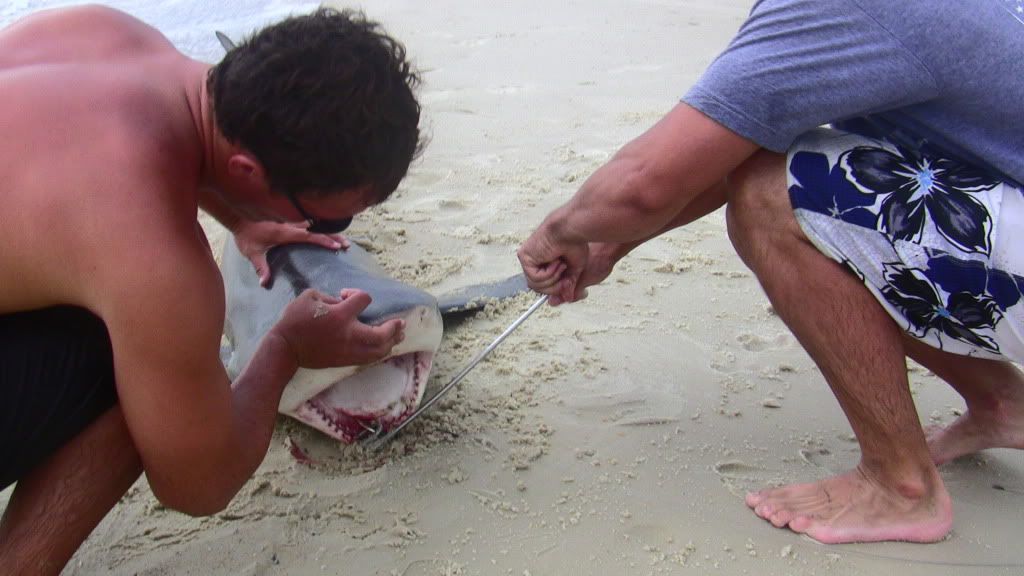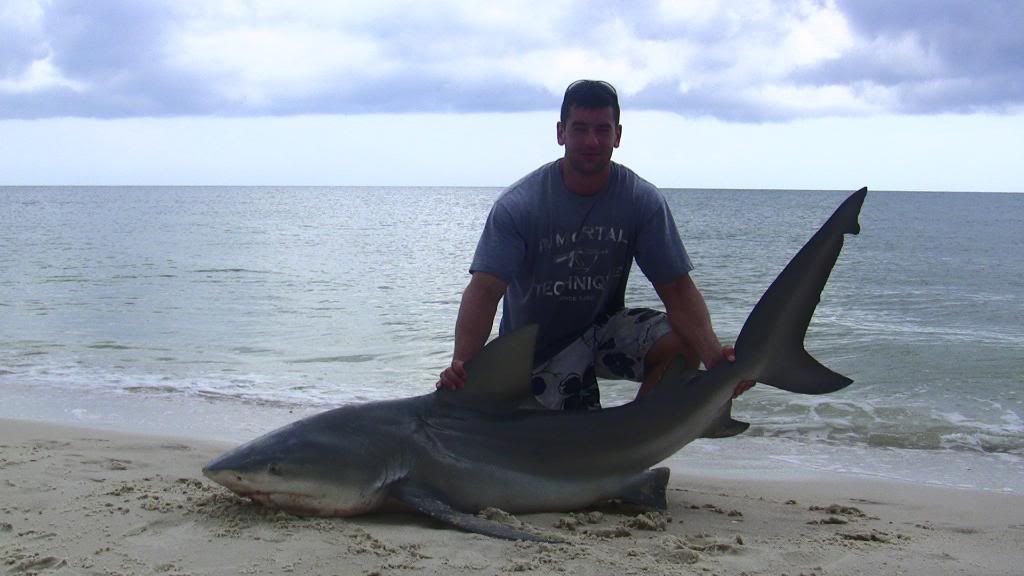 We set out baits for the night only to sit on these prime baits without a touch the whole night. I would have bet anything that we were at least going to have something pick up one of the baits but it simply wasn't in the cards. They soaked for like 14hrs straight.
The next day I caught my first ever Jack on a top water popper in the midst of catching ladys and blues non-stop. It was an absolute whopper that I originally called 3 to 4 pounds but really it was more like 2 pounds. Even still, I was excited as this was a species for whatever reason I had never caught. I had caught just about every predatory fish that frequents the surf environment but that one, King Mackerel and Tarpon. I had caught a surf cobia before catching my first jack out of the suds.
Naturally, I was excited to run this jack as bait and for whatever reason I had visions of a monster hammer coming buy and slurping it down. I was really disappointed when I got a run that resulted in a 7' something nurse shark. We didn't even bother getting pictures I was too pissed off having to deal with the barrel rolling demon and just wanted it to go away.
Jake adds another bull, this one going 6'6". It was another very healthy bull for its size.


We spent a lot of time loading up on stingrays this day and apparently Jake forgot to get one of his arms with sun block and this is what you get after covering a lot of water!


We got word a tropical storm was in the gulf and should be making conditions miserable with huge seas, horrible passing storms and monsoon like conditions.
That night it rained sideways. It hurt a lot. It was especially inconvenient when Jake had to get hit in the most intense period with loud walls of rain hitting us without mercy. I almost ran into the shark after Jake skull drug it onto the beach because I couldn't keep my eyes open. Of course it was a BT that had a perfect sense of timing. It was a painfully cold rain. We were both expressing how much the situation sucked, and yet we couldn't help but laugh harder and harder the longer we got shelled. We released this fish as quickly as possible and finally were able to hunker down in the monsoon.
From this point on during the rest of our trip we dealt with forecasted seas of at least 6ft up to 10ft which made it nearly impossible to kayak a bait. There was also a rip current warning the rest of our trip. Neither Jake or I shy away from tough conditions but there were several times it was just so bad that we didn't fish at all because we didn't think scaling the rolling and cresting mountains in front of us was worth the risk with hook, leader and line in the kayak. The possibility of something horrible happening under those circumstances was very high and we did not tempt fate when dealing with Mother Nature's very worst.
However, we decided to surf our kayaks instead. Sometimes it would take us 10 to 15 minutes to get past the FIRST sand bar. It was the kind of surf that when you are trying to get through the "breaker" it either A. Lifted the kayak till it was vertical and flipped you, or B. Shot you backwards til you either dumped, did a 180 degree turn, or hit dry sand after going 50yds. In the even we got out there, we would wait for a nice big wave and try and surf it in together. Most of the time we just got beaten badly by the ocean but by miracle, Jake and I successfully surfed a wave so big (Jake screamed, "Its going to kill us!" and he meant it) we would have never thought was possible. We did this every day we were dealing with the storm but occasionally during each of these days we would have slight windows of opportunity when we felt it was safe enough to put a bait in the back of the kayak and take it out there. These so to speak windows still involved waves of 6ft plus every single time. Most of the time the bait would just wash right back to the beach as not only were we dealing with incredible surf and current, but there was also considerable seaweed mixed in to the equation. We were both fishing 130lb mono and when we did get a bait to stick out there we would have a bow in our line that could be going a 100yds in the opposite direction of the drop location. We just kept going and trying to make it happen…
We put out a light tackle rod in hopes we could get Jennifer, Jake's girlfriend, into some action. It ended up producing a nice little BT and she handled it like a pro.

Here is a picture of me sleeping by my reel on a bait that I was barely able to kayak anywhere but I dropped it anyway because a bait in the water was better than none at all. It is hard to tell but my 130lb class rod is actually bent with how tight a drag I had to set it in.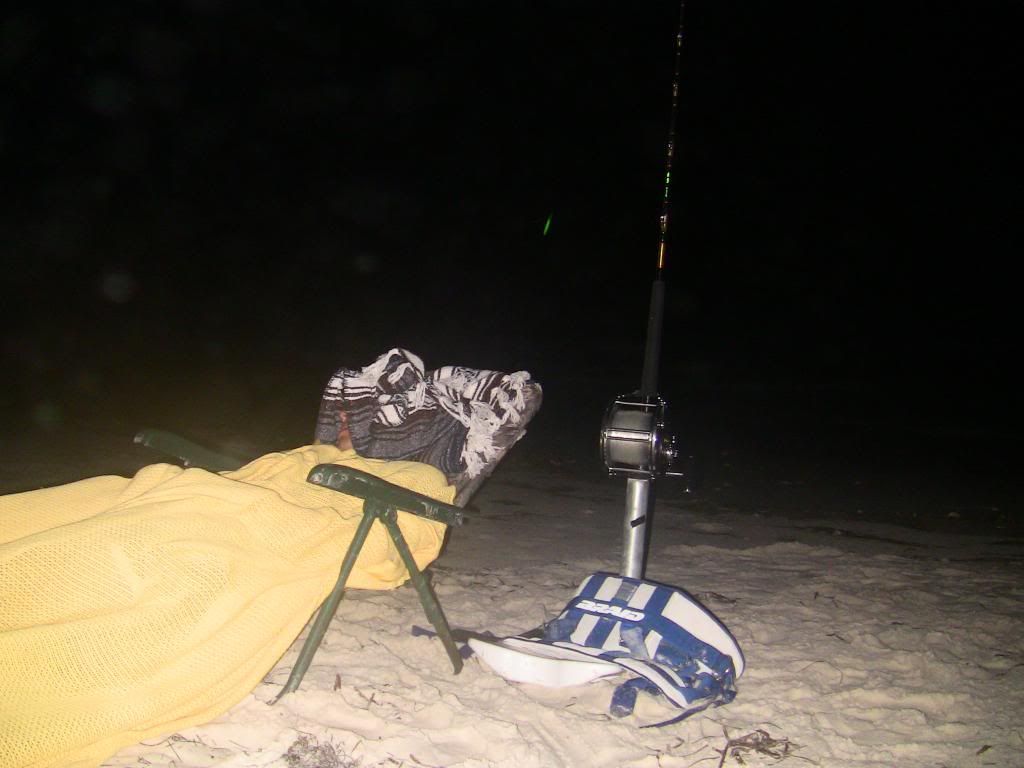 The day the storm made landfall Jake and I somehow both managed to get two baits to stay out there but as conditions got even worse Jakes line slowly got knocked out. By a giant stroke of luck mine stuck in place, even with a bow that was over 200yds away from the place I dropped my bait but I got out to where I needed to be. For line not to come out of my reel I had the reel fully engaged and tightened to well over 10lbs of pressure and to say the least I was very unhappy with the situation. Seeing the rod sitting there BENT over and knowing that a fish would have to bend it even more for line to come off the reel I doubted my chances but was happy I had a bait in the water.
Then I see my glow stick just head out with no hesitation and I almost didn't believe it was happening I had to remind myself that this was the real deal. I got to the rod let the fish go a bit more then worked VERY VERY VERY hard to truly come TIGHT. The bow was massive and I knew it was going to be tricky but then I felt nice weight on the other end of my line. Then it eased up and I thought that I missed the fish as I did have a pretty good size bait out there and maybe because of the incredibly tight setting the fish didn't get a good hold on it. I reel up the slack and set the rod back in the holder but I can't get it to stick again so I decide I might as well reel it in before it gets tangled in more seaweed. After I crank in enough of the bow out of my line I realize that I have a good size fish on! In the back of my head I was thinking that I could have a nice fish on but not even know it because the HUGE bow in my line but after it ripped a little line off the 14/0 I knew it was on for sure.
The storm had washed away a good portion of our release bag and the crucial tools inside it so Jake was scrambling to find the remaining tools that we could use for this fish. We had a tape measure and scissors. Not exactly ideal but the storm had taken both dehookers, multiple pliers and cutters and our rope. Oh well…
I kept bringing the fish in and then in close it really showed its displeasure for the rough surf break but didn't stand a chance against the locked down 14/0 and had it's belly resting on the sand in the shallows very quickly. The wind was HOWLING and with the rough surf I couldn't tell what it was from where I was standing until I got out of my harness and I didn't hear Jake the first time either although I did see a familiar dorsal fin in between waves. When I got closer I got to see that I was blessed with another Tiger and helped Jake drag it out of the water.
Here is where our depleted tool supply did not help so we got a quick measurement at 9' on the mark and then we had to figure out exactly how to unhook this fish. So I did something I will never do again, and I used my bare hand to turn, push and punch the hook out of the corner of that fishes mouth. Luckily, I still have my hands and I am very glad that I do and since, have promised myself that was the last time I take a foolish risk like that. Once the hook was out we got a couple quick pics and we dragged her back in the water and I gave her a shove and off she went into the raging white water ocean.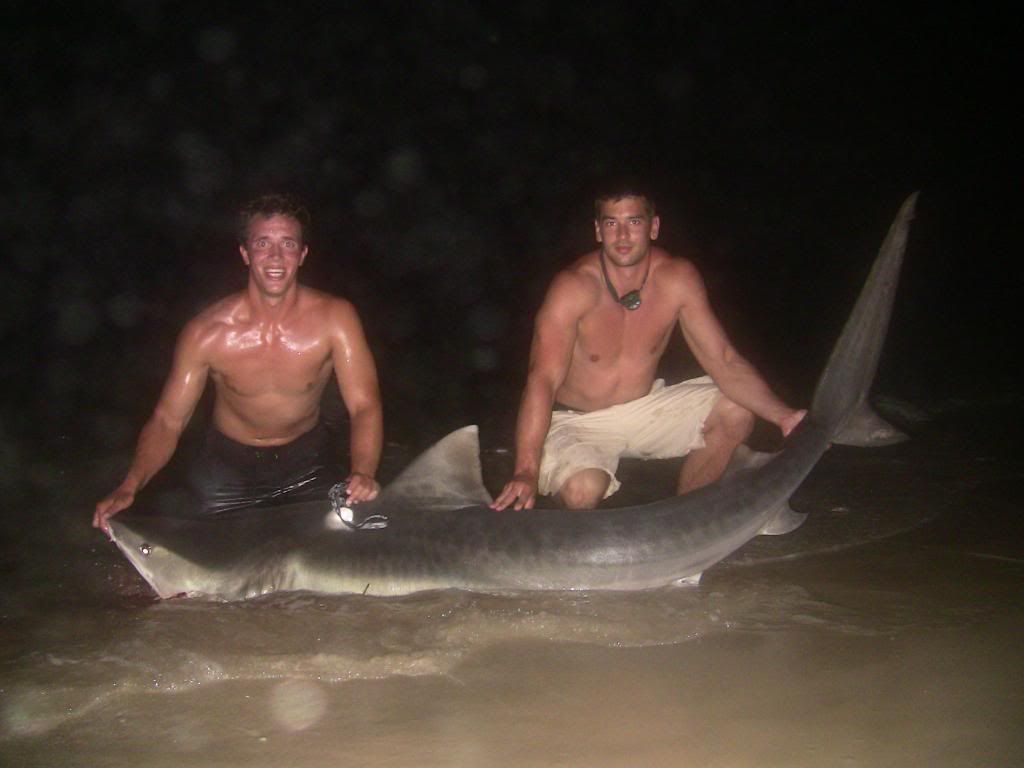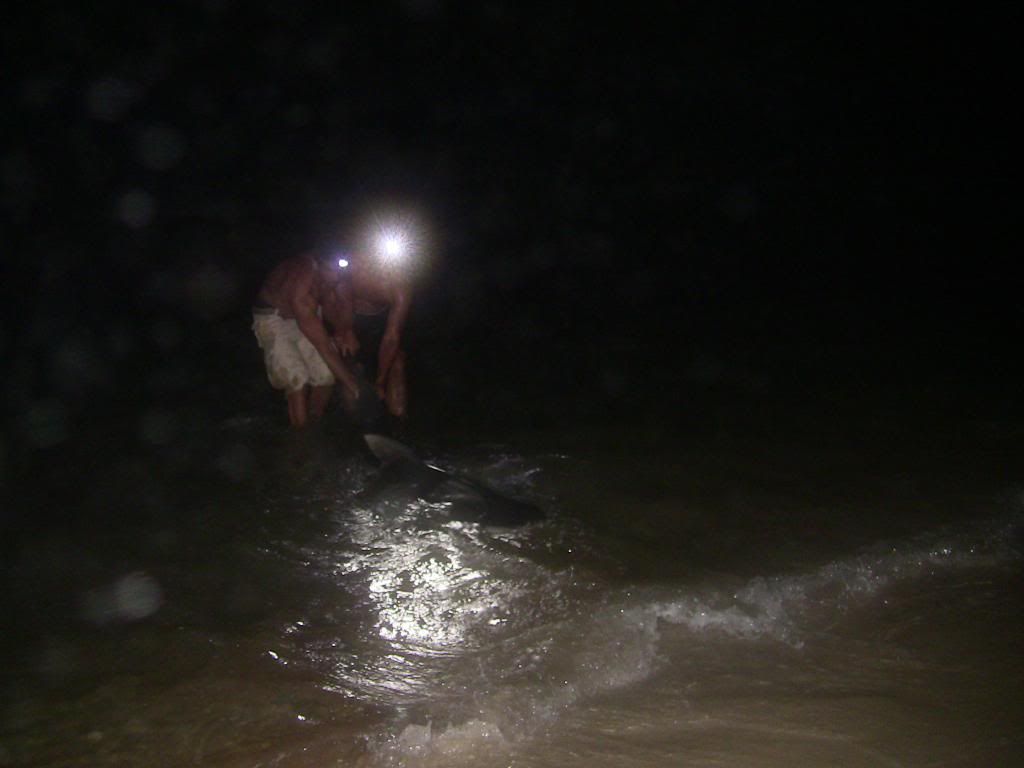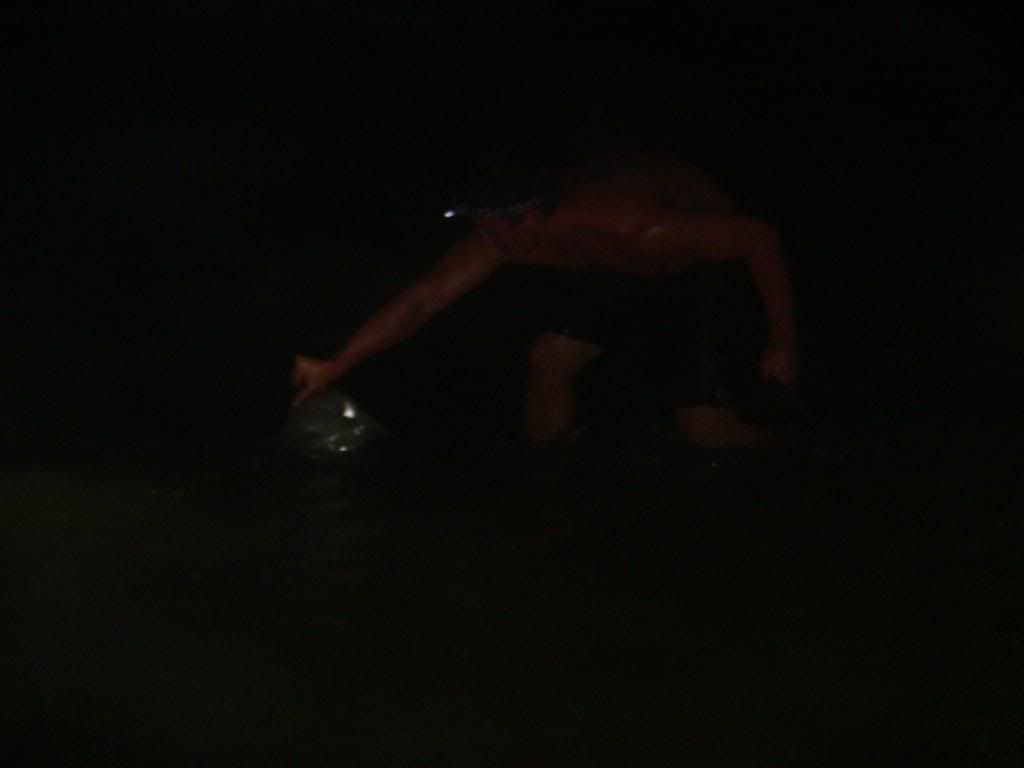 To date this is my 6th and smallest Tiger shark but it was a really special catch that meant a great deal because of the situation. I did not think catching a fish like that was possible in the heart of a tropical storm. Catching one before it got bad or right after the worst passed I could understand but to get one in the midst of the torrential downpours, vicious winds, and raging ocean made it that much more incredible.
While battling the conditions we tried to stay busy and drive around looking for some places we could catch some sheepshead. We found a couple spots and Jake caught dinner for all of us and just for the heck of it he used the fresh head/carcass as bait and later that night it got hit resulting in this lemon.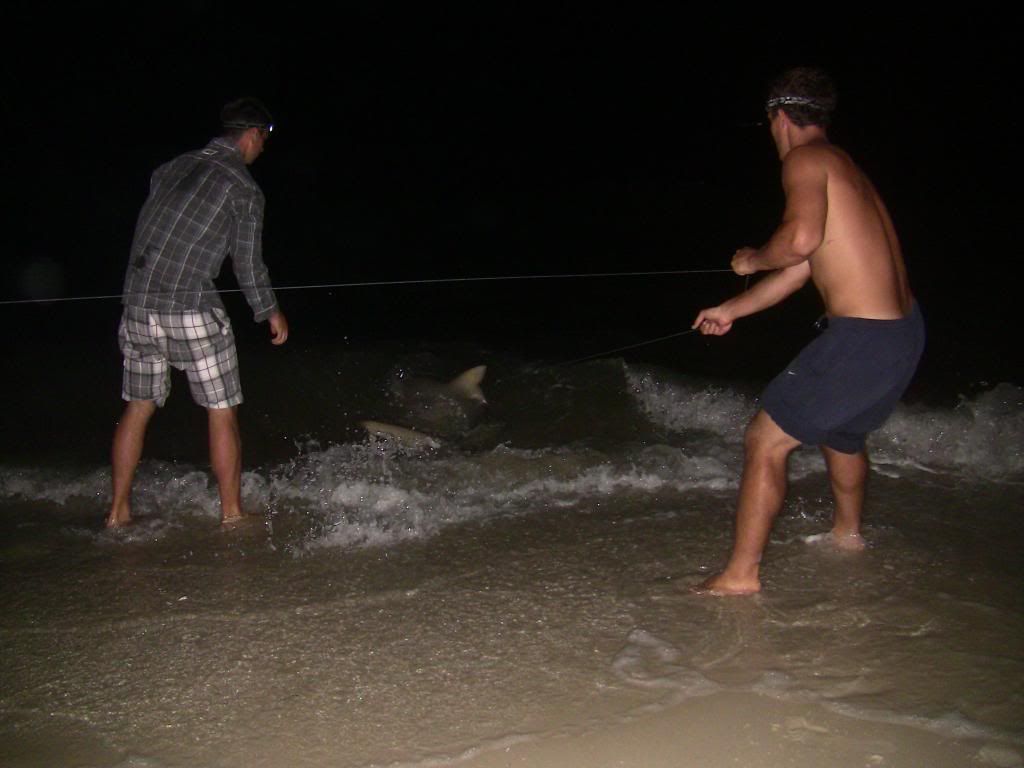 This capped off our fishing for several days before and during an tropical storm. I wish I could go back in time and take pictures of the ocean so I could better share the experience but we were a little too concentrated on dealing with the problem then showcasing it. That and a little kayak surfing fun. Dumping out there in the deeper water with rolling 8ft waves and trying to get back in can be pretty exhausting yet funny task!
I am positive the good luck charm helped us out in the middle of the storm.

We wish everyone Happy Holidays! Take care and all the best in the new year!
Matt