This report was prepared by East Ten Sharker from their Florida shark fishing trip last 2009. They got 6 sharks over 6 feet on a weekend trip. This report shows what TEAM TSF is all about.  Just an unbelievable report.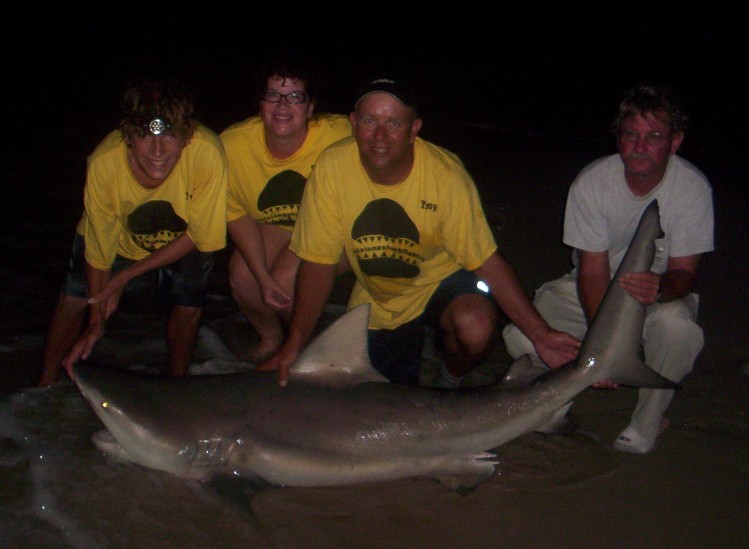 So, here we are, on Wednesday Night, trying to decide where to go for a weekend of Sharking and finally LaSharkHunter and LaSharkHunterJr decide that our best bet would be to go to a place they like to call JURASSIC BEACH. We leave Friday afternoon and finally meet after 10 hours of driving. Travis is already scoping out the area and thinking about fresh bait. Troy had brought 2 nice rays and some spade fish to get us started.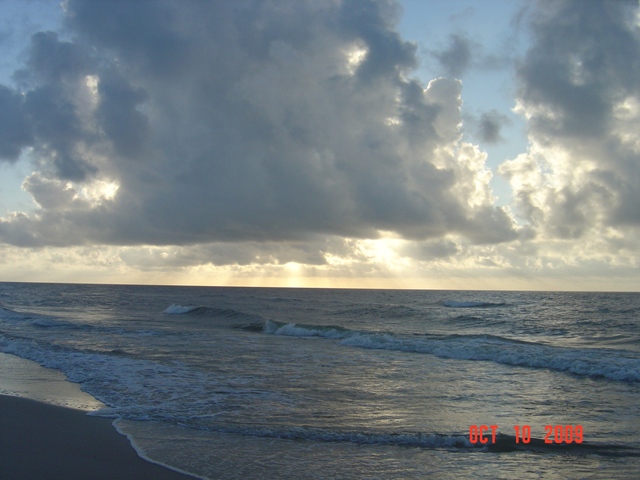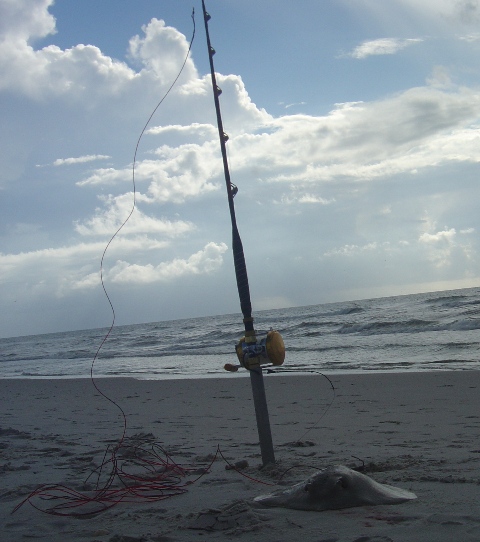 We take only a few minutes to set up camp with the help of "lady fisher" and immediately run 4 lines between 125 and 200 yards out using the rays that Troy brought.
By 11:30 am, itrap shows and we get his line in the water too. Then we go on the hunt for fresh bait and Troy scores a 20lb ray..
Well, as all of us who fish with our wives or girlfriends know, it takes a good woman to break the ice and this time was no exception. In the early afternoon, Lady Fisher (Tricia) locks up to a nice 6′ 6″ Bull. Guys, none of us has anything on this young lady. She is just downright GOOD. She takes care of business when the fish are on and knows just what to do. My time on the beach with her was enlightening to say the least. Plus she makes sure we don't all die of starvation and is equally concerned for everyone in the camp.. If you ever get the chance, do yourself a favor and share a camp with her, I promise you will not be sorry.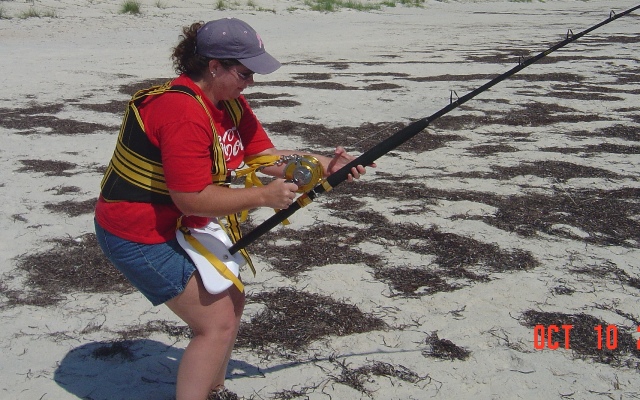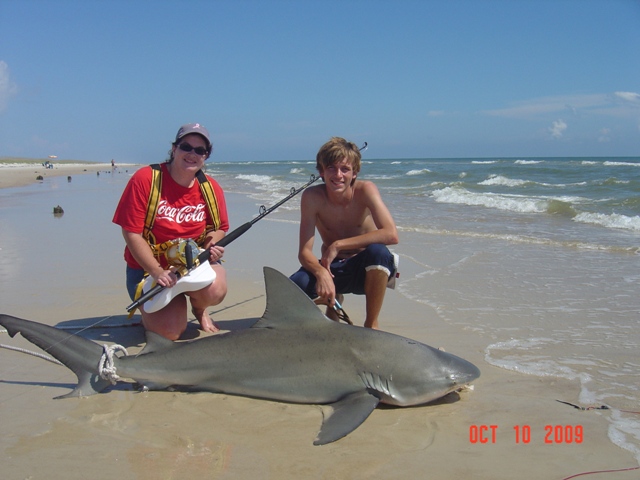 About as soon as that shark is released, LaSharkHunterJr's rod starts singing it's tune and he gets a nice 7′ Bull (a new PB Bull for Travis). This guy is a joy to watch. When he is fighting a fish, he leans so far back that his shoulders are almost on the ground. At 130lbs soaking wet, I guess that's the way you have to do it. I have never had that problem!!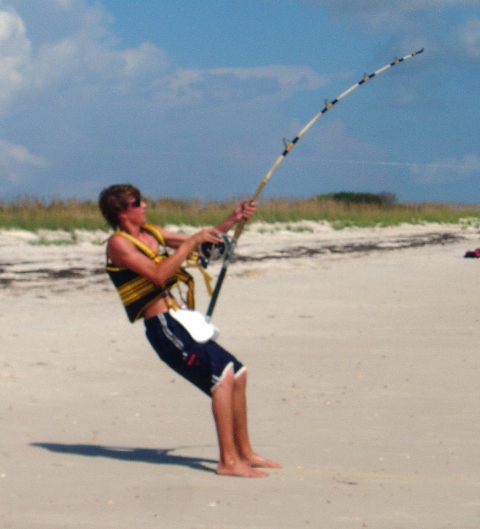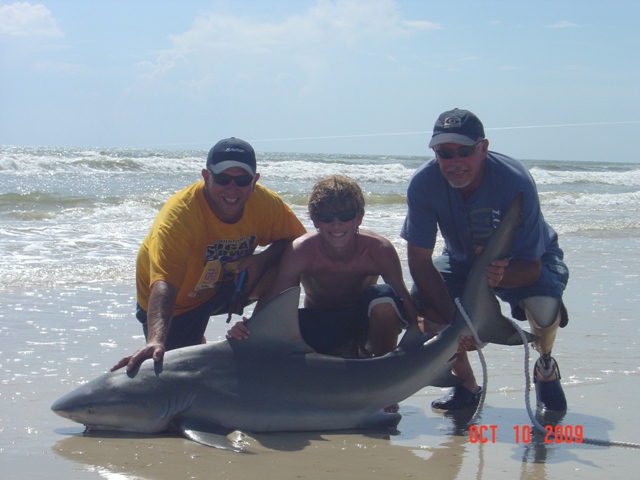 We get that shark released and then it is my turn, I get hooked up, but it's not fighting like Tricia's fish or Travis's fish and being completely over-matched on my 12/0, I land a 5′ 7″ Blacktip, nice, but not what I came to Jurassic Beach to get.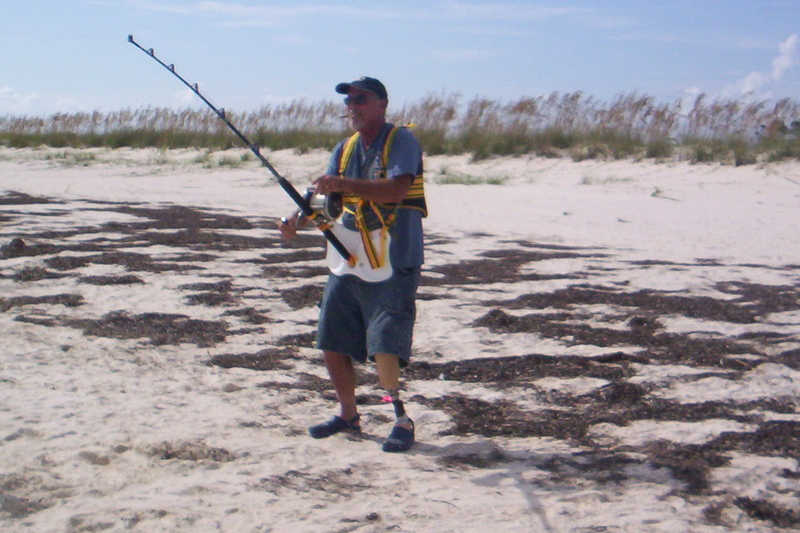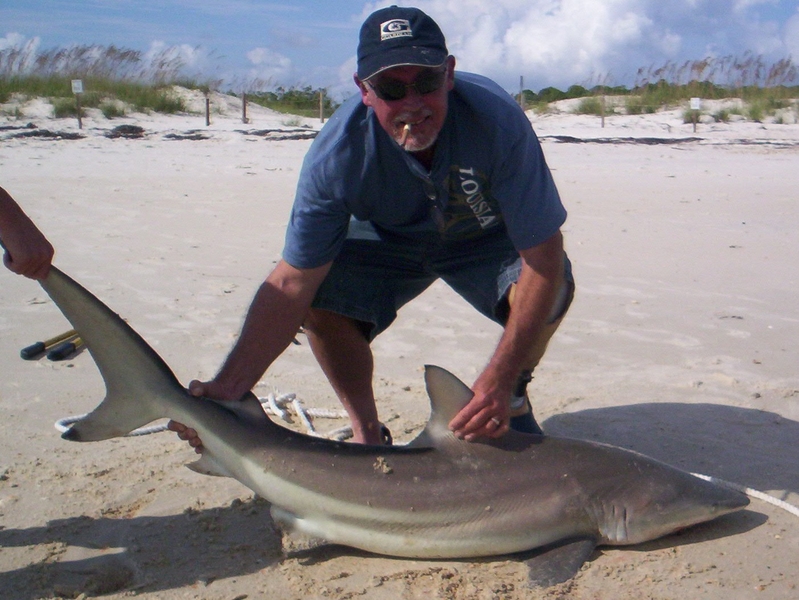 Saturday Night was uneventful except that Troy got a hit that, when he set the hook, pulled out strong drag for about 20ft and then pulled off.
As the sun was coming up on Sunday, I decided to try my luck for bait in the surf. I walked down the beach beyond where itrap was sleeping. I got a jack, a flounder and a ladyfish. Itrap looked so peaceful, all covered up and warm. His bait had been soaking for more than 16 hours. Then it happened, his rod hit and covers went flying. He set up on a strong fish and we all knew it was a good one. Nearly an hour later he landed a 7'11" Bull. A Big Fat Healthy Bull. We all did our thing and this shark will live to fight another day. This is a new PB Bull for Jeff too.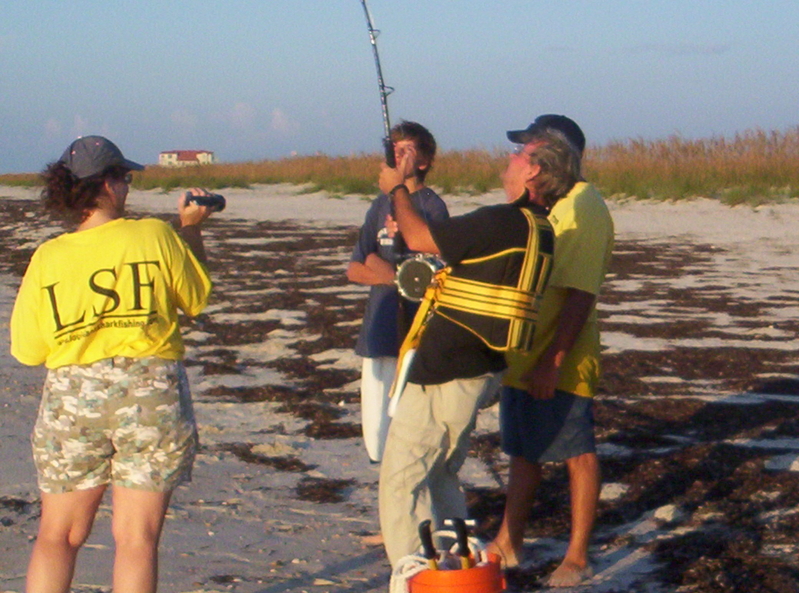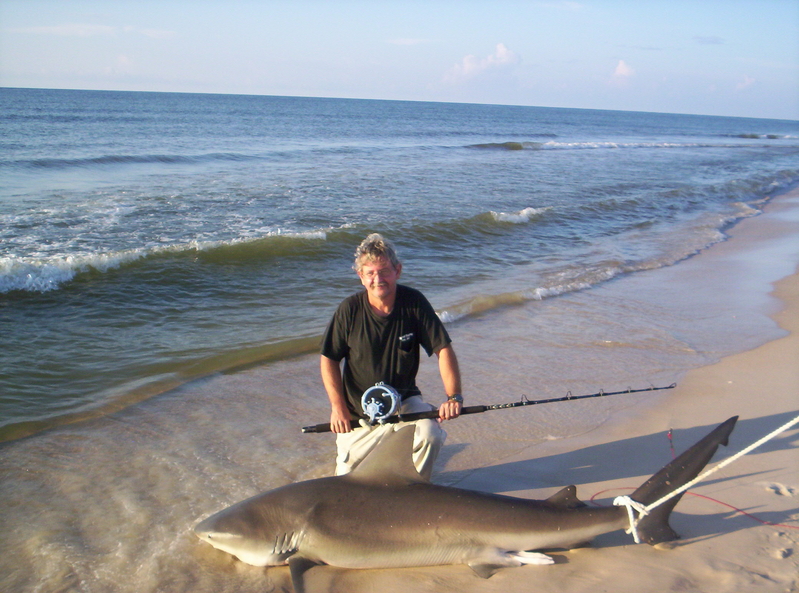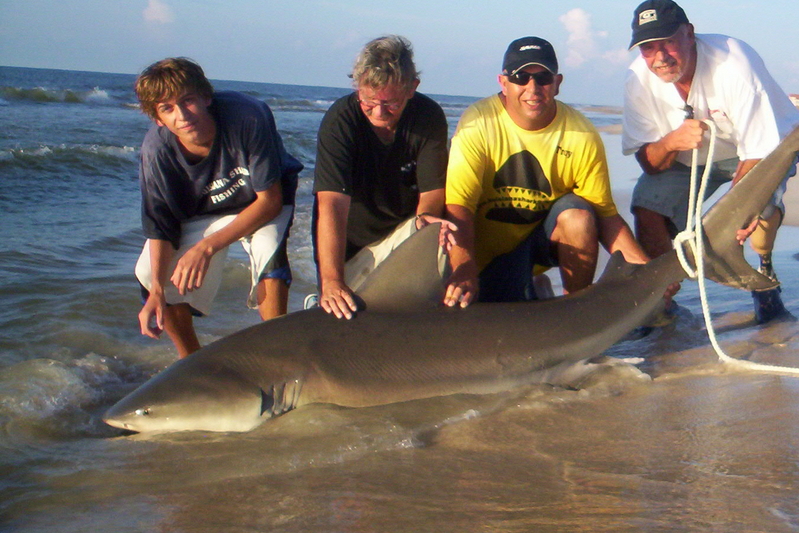 We struggled most of the day looking for bait, then late in the day Travis gigs a dinner plate size ray. Now this kid was 3/4 of a mile from the camp and had been walking the surf for 5 hours. He told his dad that "this ray is for Mr. Greg" and he walked that ray to camp and told me to reel in my line. He said he had the "LUCKY" bait and that he was sure the bait would get hit that night. We prepared the ray and he got in the yak and took it out. He told me to stay near the rod because something special was going to happen. This young man's strength, enthusiasm, and confidence is simply endless and he is an amazing shark fisherman.
Now, I don't know what Travis has learned in his 16 years that I haven't learned in 57 years, but within 1 hour I was on to a strong fish. He fought hard but differently than the Bulls I had been watching get caught. In about a half hour I had the fish close. Troy yelled that there was about 40 or 50 cobia still with the Lemon I had on. Troy & Travis got a tail rope on it and I was just thinking, "just let it be over 6″. When we were posing with him, Travis taped the fish and asked me if I was ready and then yelled 8′ 8". If you don't think a one-legged man can jump, you should have been there to see me go airborne. This is an overall PB for me…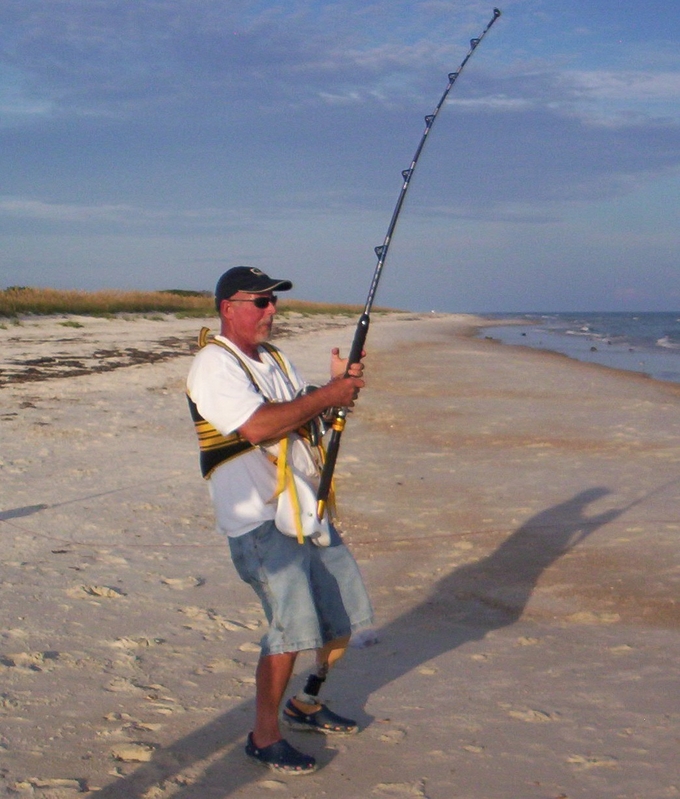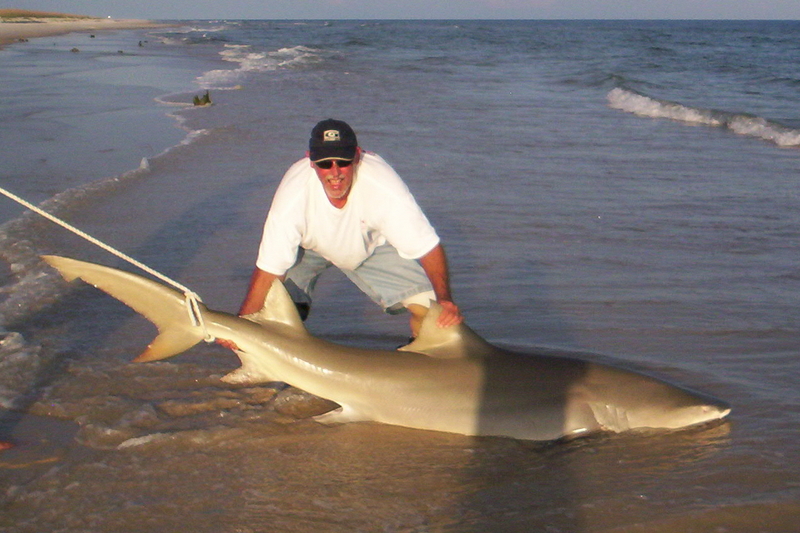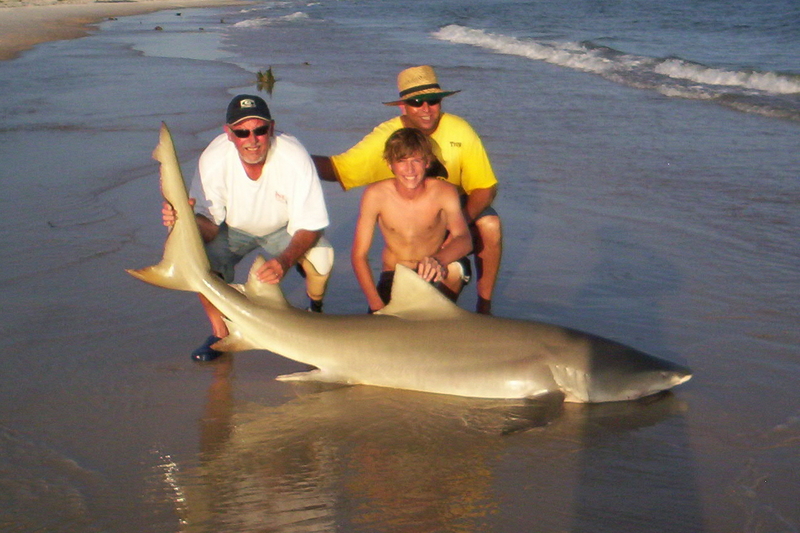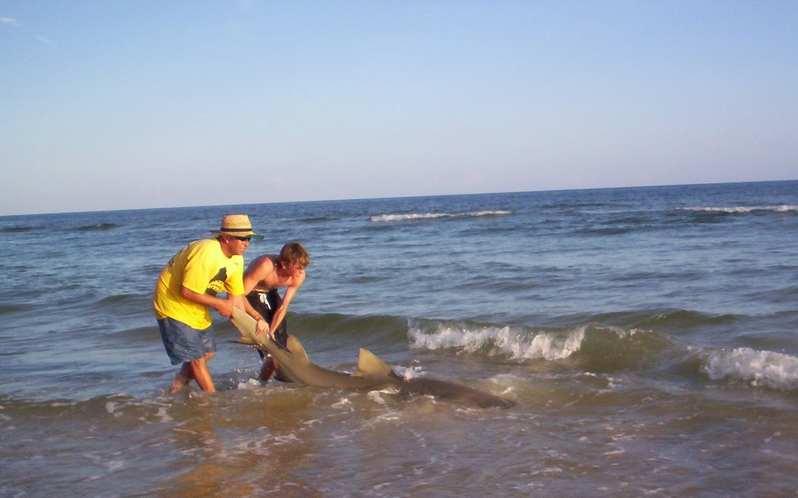 As my adrenalin level got back to normal, we got new baits set for the night. At 1 AM I got a really good hit, but being totally out of it asleep in my chair, I missed about half of a 20 second run on my rod and by the time I realized where I was and what I was doing, I set the hook on a chewed-up piece of bait.
Now you notice that Troy had not caught a fish as of now. Well, at 6:00 AM on our final day he finally got a solid hook-up, we all took up our positions and spent the next half hour watching Troy win his battle with a 6′ 8″ Bull. Then Jeff hooked up right at daybreak with his second Bull at 6′ 6″.This was a total of 6 sharks over 6 foot in a 48 hour period. Amazing!!!!!!!!!!!!!! And with 3 new Personal Bests.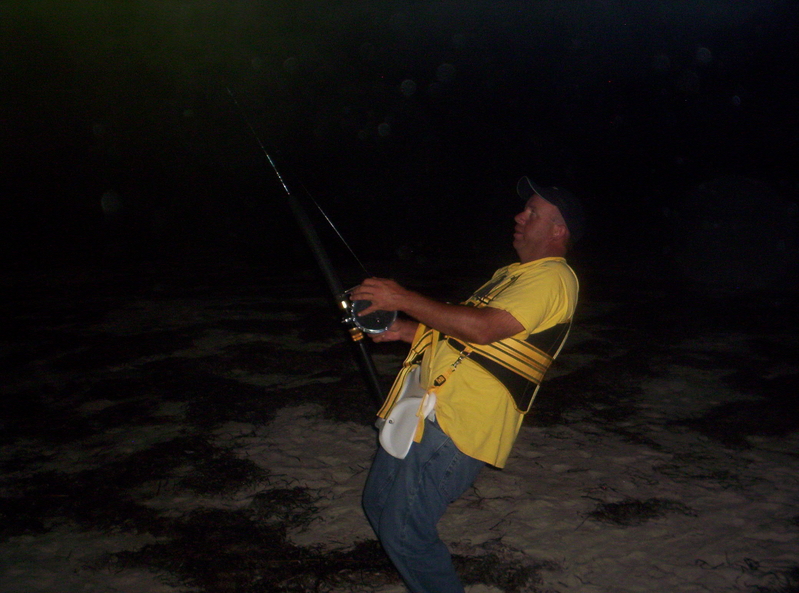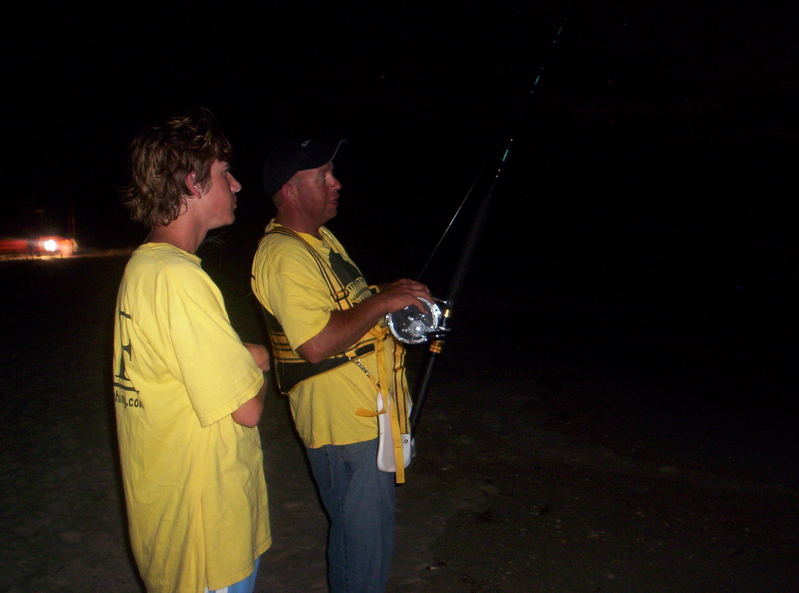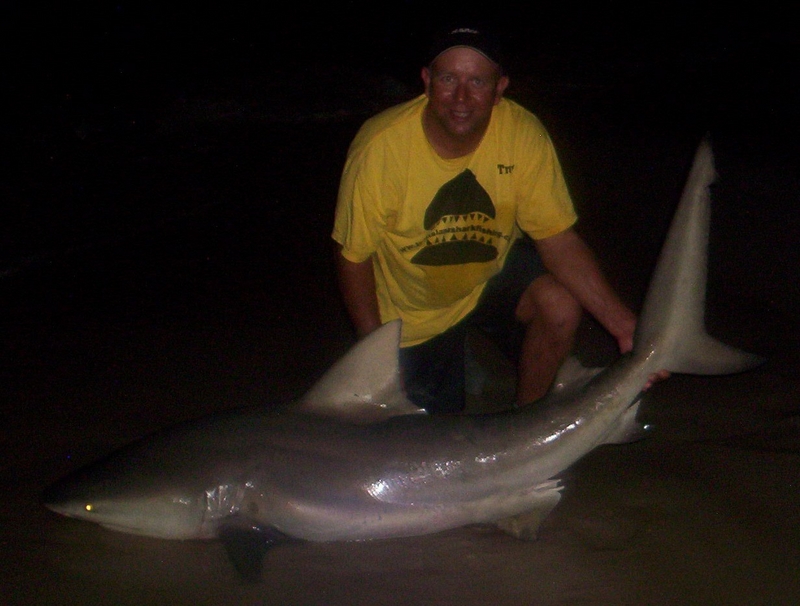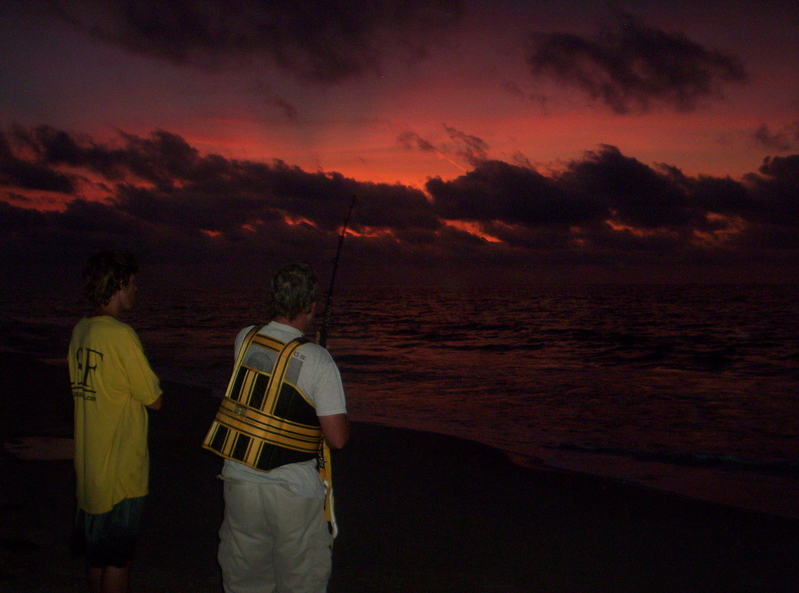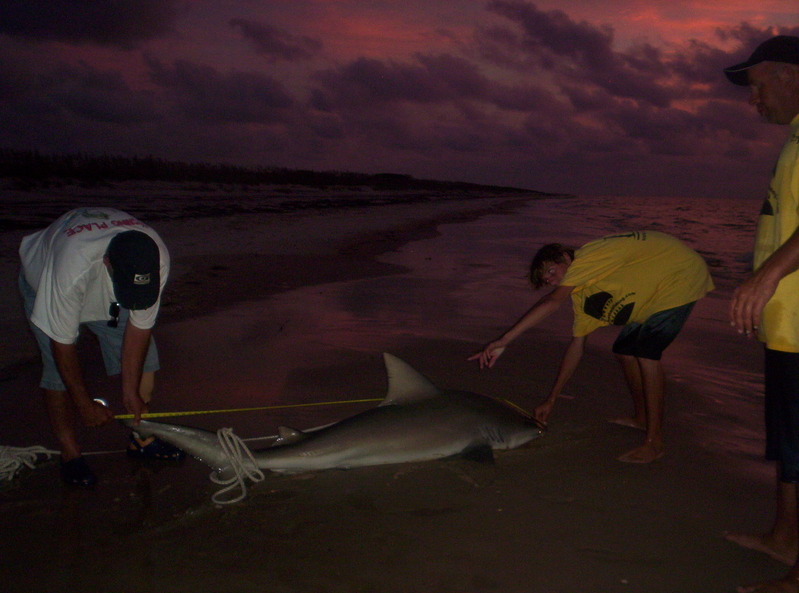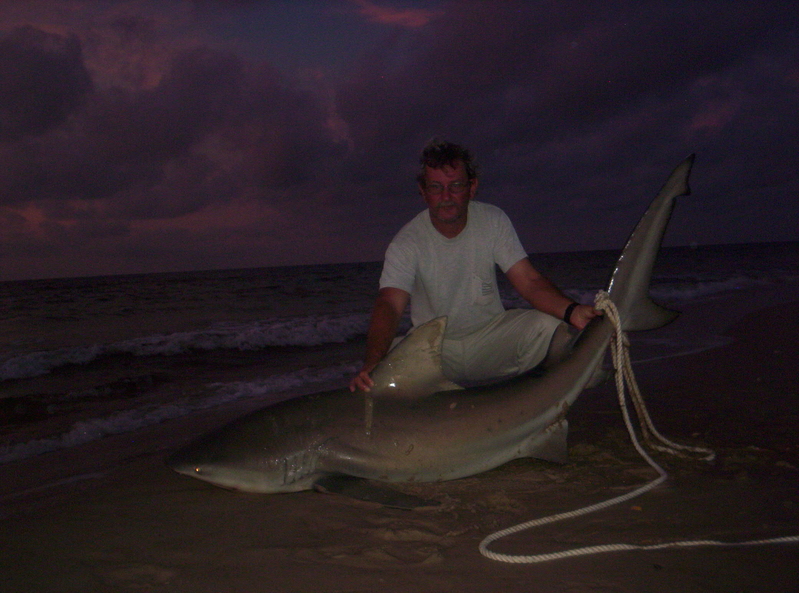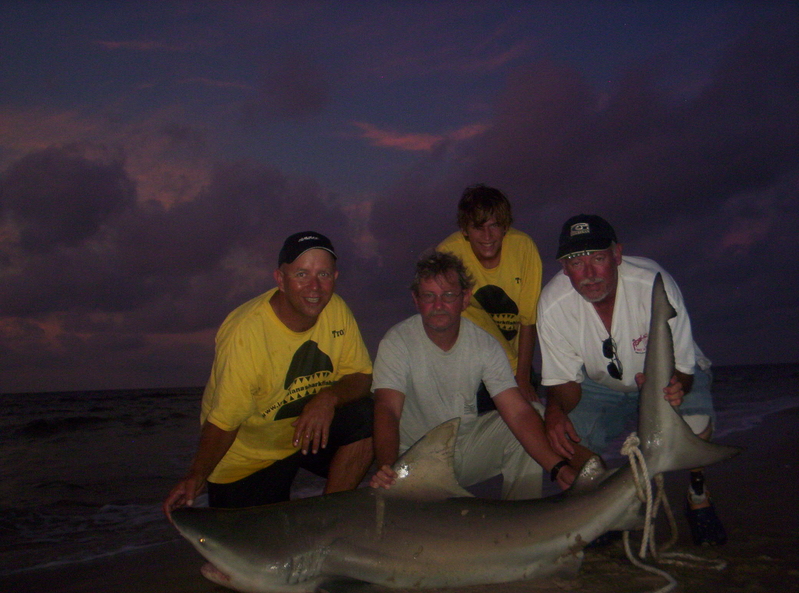 This group of people are THE finest people I have ever had the pleasure of sharing a beach with. LaSharkHunter, LaSharkHunterJr, Lady Fisher, and Itrap. All of you changed my life this past weekend and I will be eternally grateful. This is a tough team and I am looking forward to our next trip when we can get even more SHARKS ON THE SAND!!!
Personal lessons learned this past weekend:
Your team makes it happen!
Without them you are just a whiting fisherman using over-sized bait on over-sized gear!
Never, ever give up!
Be serious and confident!
Again, your team WILL make it happen……THEY DID IT FOR ME!!!!!
Greg Sowder
EastTennSharker