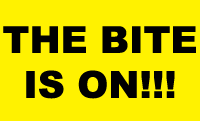 This south florida shark fishing report was written by the great CUDAMAN, a.k.a., Herbert Mueller from his recent spring fishing trip. The guys got in black tip sharks, lemon sharks, and some big cudas off the bridge and beach.
Cudaman has fished up and down the south coast of Florida for years and years and knows all the patterns, the shark migrations, how to fish the tides, and how to plan for success as the seasons come and go. Herbet has also developed several great shark fishing crews and taught countless people the fundamentals of Land Based Shark Fishing. He is a great fisherman and a great guy.
HERE IS HIS SHARK FISHING REPORT…
Hi people, I guess it is time for one of my reports. It is long over due.
We have been going out fishing but had very bad luck lately. I started by catching the bait some cudas and some in my group did an excellent job on collecting big baits from other sources such as charter boats.
Sample of the bait:
This is the pic of a nice 30 pounder barracuda caught on a plug a month ago. (Unfortunately that bait did not produce).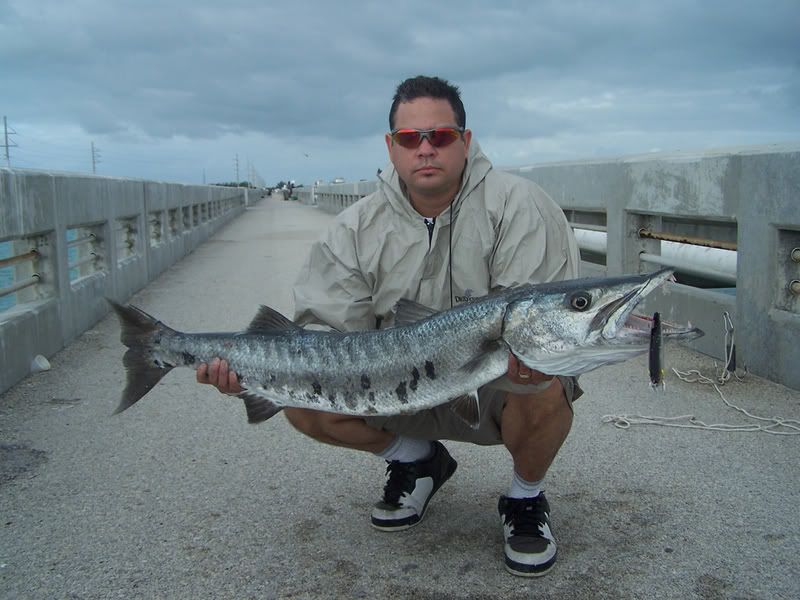 This other one is of a 25 to 27 pounder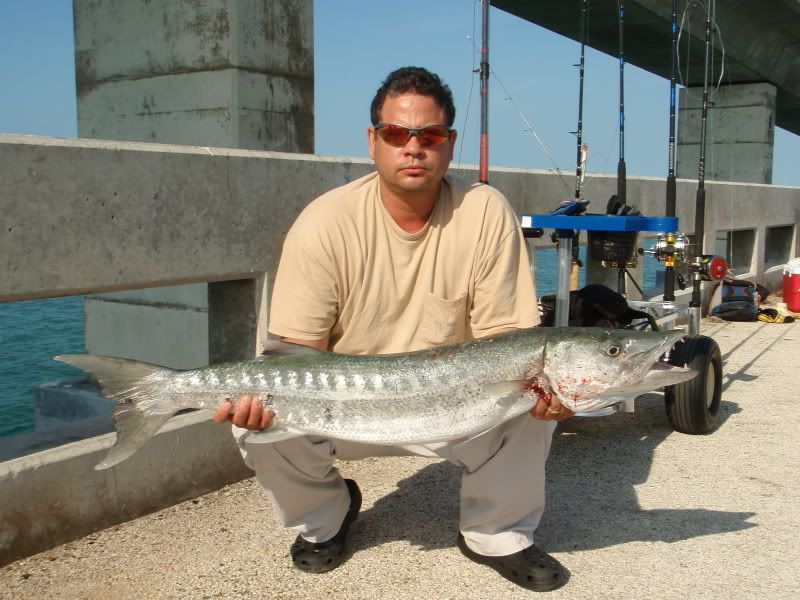 This is the kind of bait I like the most. It did yield one blacktip from a bridge by Luis "picua". A kingfish carcass yielded another blacktip from a bridge, and a dolphin fish carcass yielded a nurse shark. I got a decent 8'10" lemon also, and then another blacktip on a jack fish belly (10 lbs chunk).
On the first trip (first week of April) the goal was to catch a big shark so we used whole bonitos and big chuncks of Jack fish, big enough to not allow smaller sharks to take the whole thing. Since we were using big baits we lost 3 sharks that day and then on the 12th hour of waiting for something big an 8'10" male lemon hit. I rig using a 20' homemade 250 lbs test red line wind-on leader, a 950 lbs American Tackle swivel and 4 to 5 feet of #19 single strand wire with an 11/0 J hook. As you will see the red balloon that popped is what I use to keep the bait at mid (it is just slightly inflated and at the end of the wind-on leader) then I tie a rock with about 10 feet of string.
Here are some pics:
The rods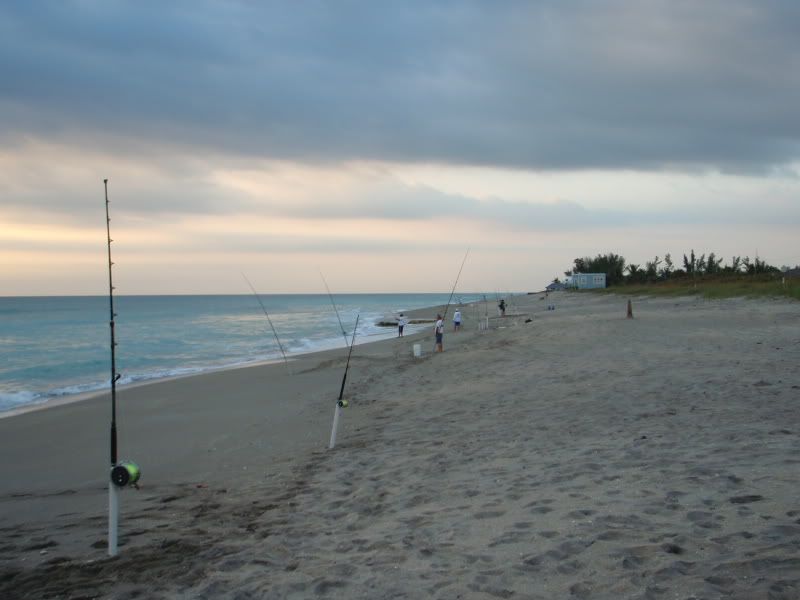 Pic of the fight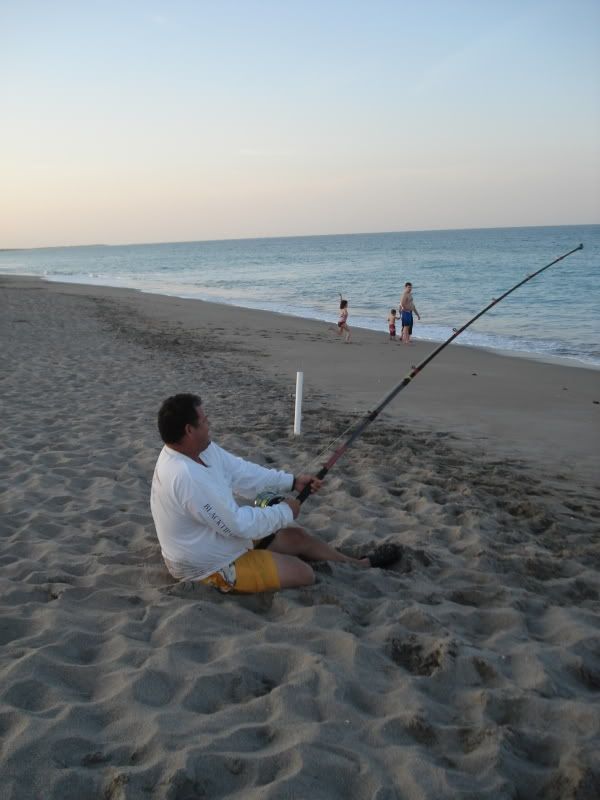 Pic of the lemon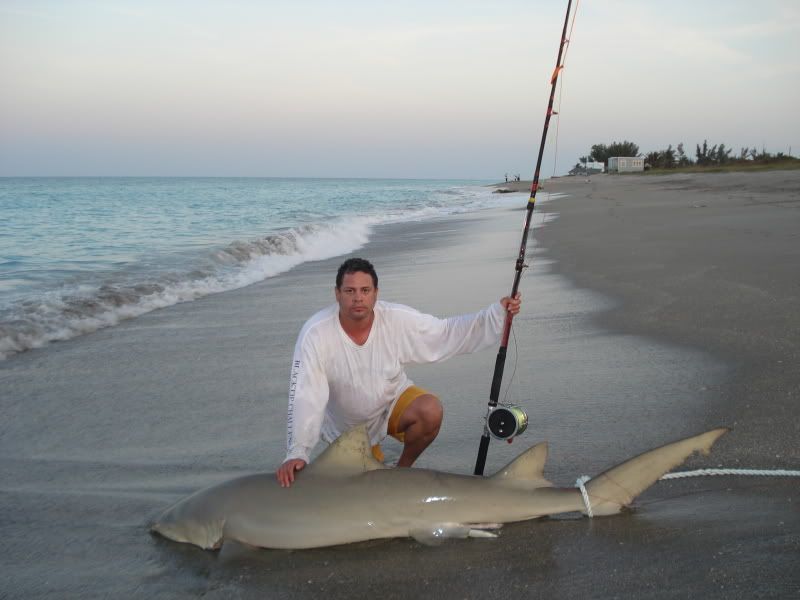 De hooking the lemon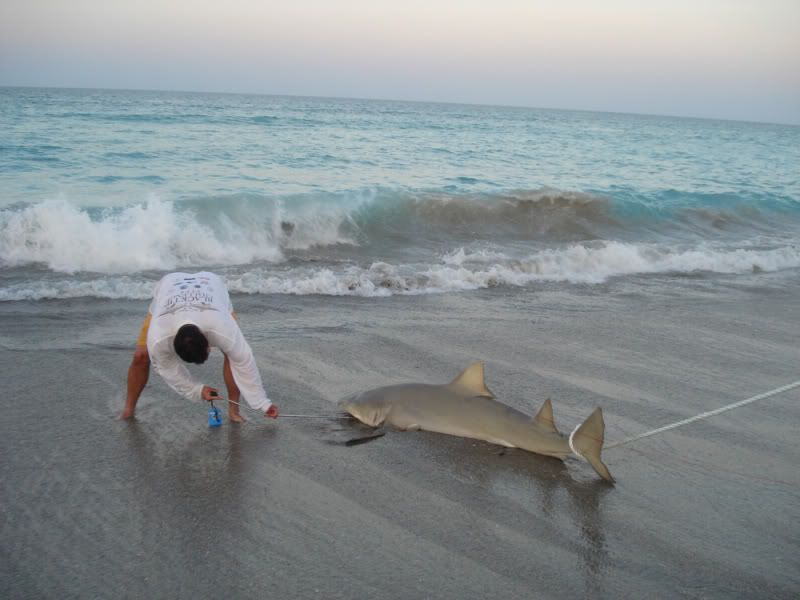 Here is Brad on one of the blacktips from a bridge: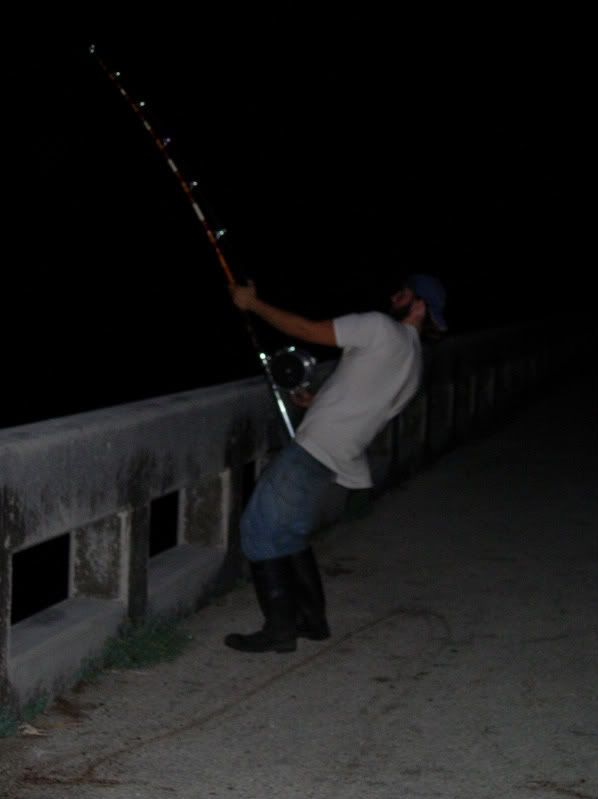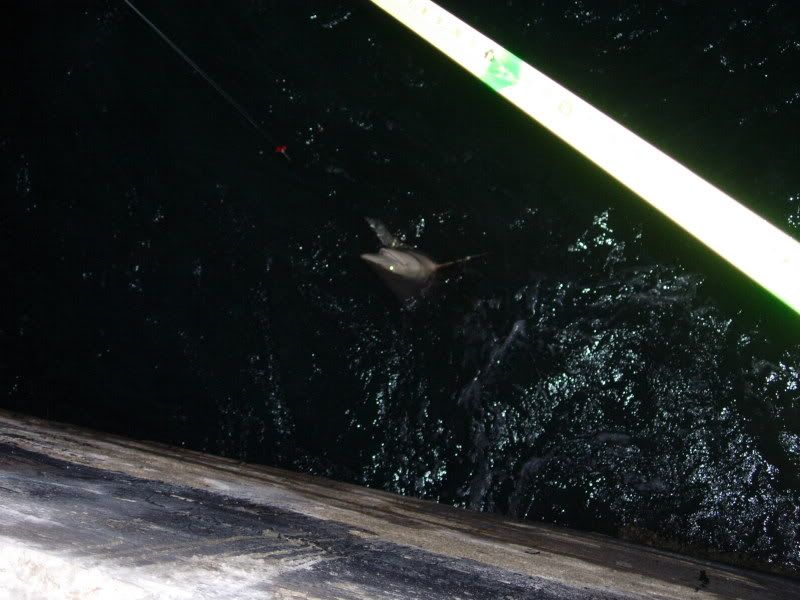 Here is Luis' blacktip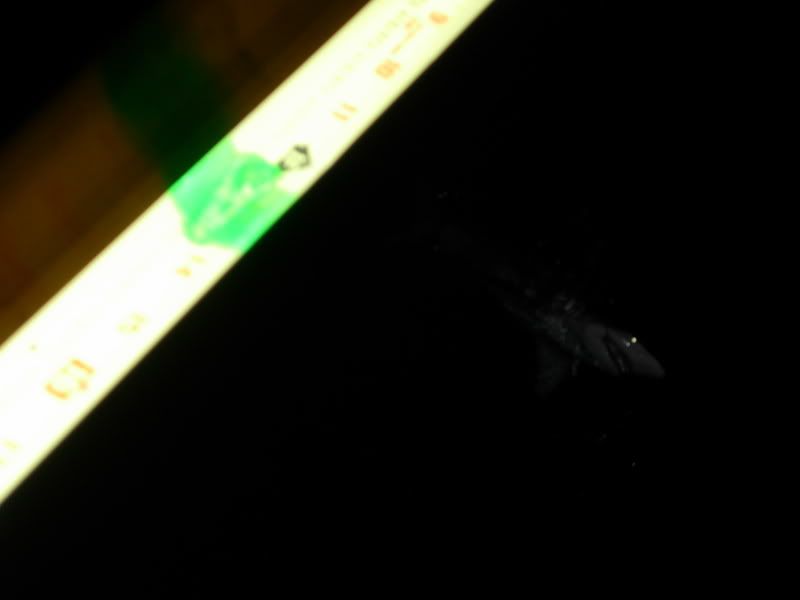 On the second week ( Friday April 10th) we went to a hole that we know had produce some decent sharks in the past.
Here is Brad trying it out: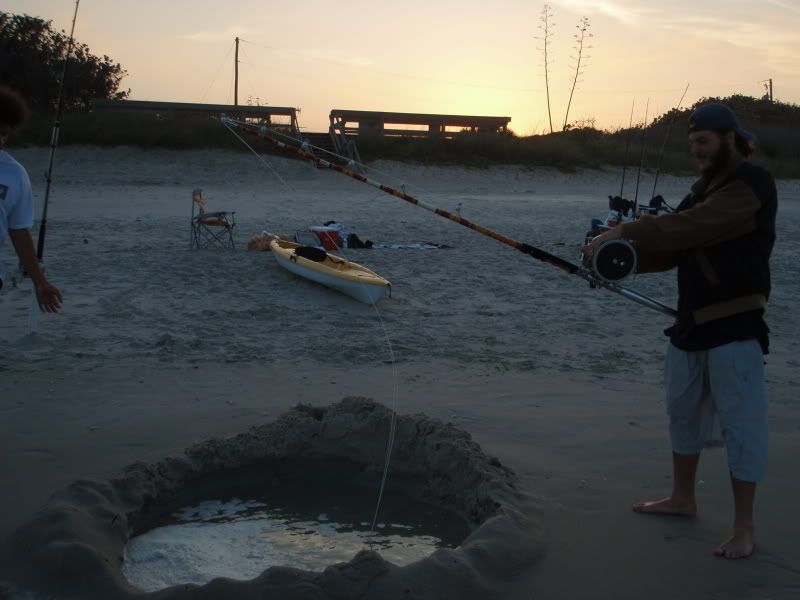 After that it was my turn but I got hit quick so no pick of me fishing the whole, it ended being another blacktip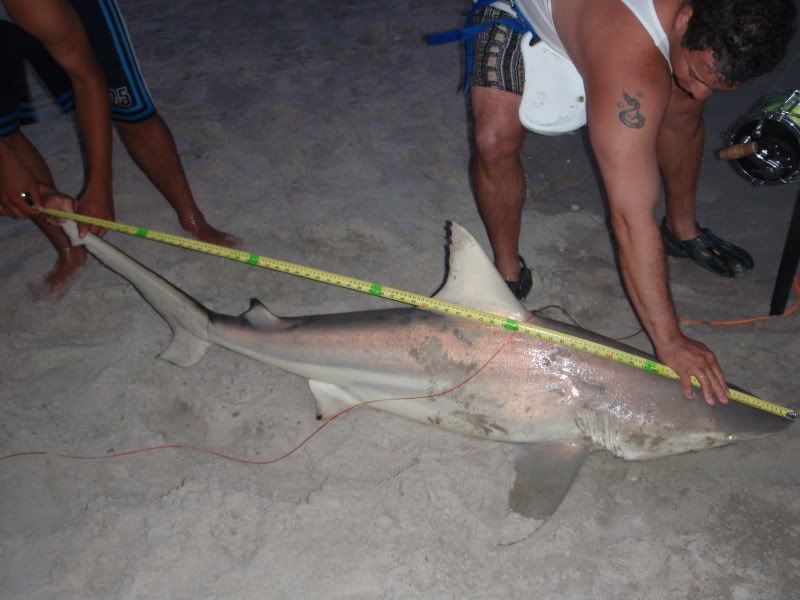 Brad on the release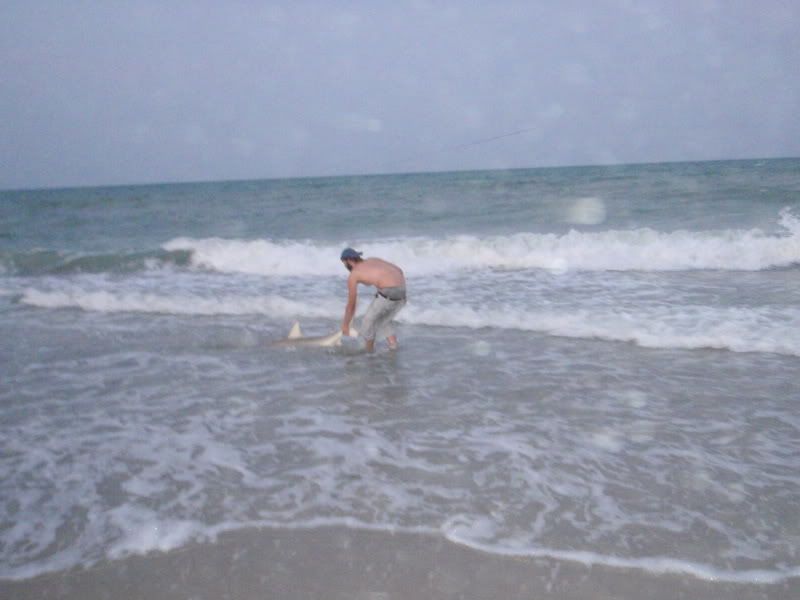 Until next time, keep catching them guys.